Jonathan's Story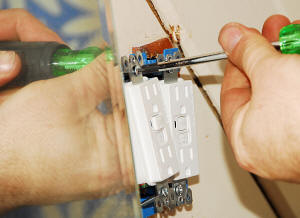 Jonathan A. Murphy, owner of Hot & Cold Electric, tells his story:

My journey as an electrician started, unbeknownst to me, the Christmas of my sixth year when my father gave me my first electric train set. I developed this fascination for how electric motors worked, and that led to light bulbs and stereos, and anything else I could attack with a screwdriver.
This untapped potential remained dormant for the next 22 years, at which time I was hired as a temporary production worker at ZF Lemforder Corporation, an automotive components factory in Brewer, Maine. There, I was befriended by one of the maintenance electricians, who saw this potential in me, and gave me a referral to the Electrical Power program at Eastern Maine Technical College.
I not only discovered that I liked it, but I was good at it. I did the two-year program in four, while raising three children and working full time at Lemforder. I graduated with an associate degree in electrical power in 2001, and was hired by the maintenance department at Lemforder that August.
For eight years I worked as a production technician, eventually working my way up to senior production technician. There was overtime, weekend time, holiday time--any time that I was needed, I was there.
Sadly, due to the downturn in the economy, Lemforder closed its doors and relocated operations to other states and countries. My last day of work there was December 30, 2009. The one thing they gave me when I left that was of value to me was a record of the 12,001.97 hours I worked for them in the capacity of a technician, just enough for me to sit for my Master Electrician's license exam (The requirement is12,000.)
As part of the plant closure, we were all eligible for skills training paid for by the government. After much consideration, I chose to pursue a second degree in Refrigeration and Heating. I returned to the same school where I'd become an electrician (now called Eastern Maine Community College) in the spring of 2011 and started classes for that program. I also took the National Electrical Code class, the last remaining requirement to take my Master Electrician's Exam.
In June 2011, I successfully passed the master's exam, which I continue to call the most brutal three hours of my life, and was officially licensed in July. In August I was referred to the "Incubator Without Walls" program put on by the Downeast Business Alliance, part of the Washington-Hancock Community Agency (a two-county community-action program). The IWW program taught me how to properly and legally start my own business.
On January 3, 2012, I was registered with the town of Bucksport as Hot & Cold Electric. I was licensed, I was insured, and I was officially in business.

By the end of May 2012, I will have my refrigeration certification. By the end of December, I will have my gas appliance license, and by May 2013, I will have my journeyman's boiler license, at which point I will be truly able to service the Hot, the Cold, and the Electric.