Welcome to Hot & Cold Electric!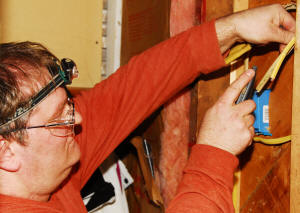 HCE is owned by Jonathan A. Murphy, Master Electrician, offering a full line of electrical services. And coming soon: a full line of heating and cooling services.
Licensed -- as a Master Electrician, with over 12,000 hours of experience as an electrician prior to attaining M.E.
Certified -- by the EPA as a Universal Refrigeration Technician
Certified -- for installation of Fujitsu Mini-split heat pumps
Insured -- you're protected
No premium charge for scheduled after-hours service -- if we schedule a 9 p.m. appointment, you won't pay extra
24-hour emergency service
No minimum hourly charge -- if it takes 15 minutes to install a light switch, you get charged 15 minutes
Free consultation and estimating -- Jonathan will look at your project and let you know what it will cost
There are many thing to think about when preparing for an electrical job. Jonathan will make sure you know everything you need to know, but click here to learn about some things to think about before starting your electrical job.